What is the NFT Public Library?
The NFTPL is a repository of Public Domain works that have been minted into NFTs to ensure that they will remain freely available to be enjoyed by future generations.
A limited supply of our NFT E-Books are also available for purchase with a portion of proceeds going towards the funding of literacy education programs facilitated by the nonprofit organization Room To Read.
NFT Minting Guidelines
The NFT Public Library plans to mint each piece in accordance with the following guidelines to ensure consistency across our catalog and provide transparency to individual collectors. All artwork and literature used for these collectables are believed to be in the Public Domain and will be minted without royalties.
Library Edition

This series of NFTs will be held in reserve by the library and used to support other projects and organizations focused on the following areas:

~ Reading and Arts Education

~ NFT & Crypto Community

~ Metaverse and VR Mass Adoption

Total Minted Per Library Edition: 100

Collector's Edition

This series of NFTs will be available to purchase & can be held in your own private collection or traded on the secondary market.

Proceeds from the sale of these collectibles will be used to expand the library & fund our ongoing literacy education initiative.

Total Minted Per Collector's Edition: 1000
Help Create Long-Term Systemic Change
For over 20 years, Room To Read has been working to transform the lives of millions of children in low-income communities by focusing on literacy and gender equality in education.
We are extremely proud to support this world class organization as they change the lives and prospects of hundreds of children, their parents, siblings, and teachers by donating a portion of the proceeds from our Collector's Edition NFTs.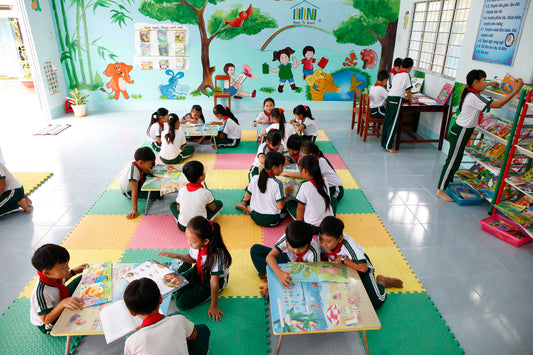 Invest in a School Community
Once sufficient funds are collected, Room To Read will be contracted to activate a strategic literacy program for a school community in need.
This program will make it possible for the school to receive a brand new library filled with hundreds of colorful, engaging children's books, letter cards, word cards, exercises, workbooks and literacy games.
In addition, the teachers, librarian, and the head teacher in the school will receive training and ongoing support on how best to engage with students using these specialized learning materials that are focused on developing early reading and writing skills.
The global pandemic has made it harder than ever for under-served communities to provide adequate literacy education & we look forward to helping to ease this burden as proud supporters of Room To Read.
- The Diamond Sutra

Not only is The Diamond Sutra recognized as the oldest printed book in existence, but due to this unique dedication, it is also the oldest known copyright-free work as well.
We humbly carry on this tradition and dedicate this library for universal free distribution on International Literacy Day, 08 Sept 2021.


View The Diamond Sutra